Dialogue with Daryl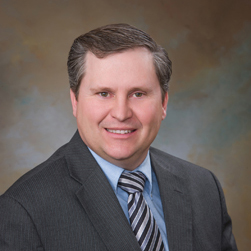 This feature was suspended in November 2020.
October 26, 2020: From a pie-in-the-face to a tractor trek across the state, NDFB members are taking the NDFB Foundation Challenge to help provide a brighter future for agriculture.
Download the NDFB Foundation Challenge mp3
Read the transcript:
Information and education. The NDFB Foundation strives to provide educational opportunities for all ages and information for the betterment of the knowledge and perception of agriculture. And sometimes things get interrupted and fund-raising opportunities have to get creative.
We now have a peer-to-peer fundraising activity going on, where it's a challenge. Members take on a task if a certain amount of money is raised. You know maybe they get a pie in the face, for example, if people donate 500 dollars in that person's name for their task that they will do. Or maybe they'll sing the national anthem for a thousand dollars if they get enough donations in their name.
In fact, I'm trying to figure out what mine will be. Mine's gonna be a bigger one, maybe five thousand or ten thousand, but I need some input of what would qualify for people to give money to raise that much, that they want to see me do.
Well, we've got some great members and staff out there that are doing the very things right now I talked about and you can support those activities by going to ndfbfoundation.org and clicking on the donate button and donate in many different capacities of different things that our staff, our great members, are doing to raise money, so we can provide more information, more education about agriculture in this great state of North Dakota.
We're proud of our members, we're proud of our staff that have stepped up to help raise funds when we've had to make modifications to crowd gatherings in this unusual year of 2020. NDFBfoundation.org, click on the donate tab and find out what everyone is doing for their challenge dollars.
October 13, 2020: In less than a month, we will be voting for who we want to represent us at all levels of government. Are you ready? Do you know where the candidates stand on the issues that are important to you?
Download and listen to the Your vote, your choice mp3
Read the transcript:
'Tis the season, election season that is. At NDFB, we encourage and we try and provide information for our members to make an informed decision when it comes to voting. This time every two years is extremely important that we protect our freedoms, opportunities and self-reliance. It's important we vote for folks that will ensure that those freedoms, those opportunities and our ability for self-reliance is protected, and in fact, enhanced.
There are many out there that talk the talk. But when it comes to voting, they don't walk the walk. And sometimes you have to dig deep to find that information. This year happens to be a presidential election. And it is important, as farmers and ranchers, that we vote to support the presidential candidate who fights hard for our interests, who understands that agriculture is the backbone of this country, and that we, as North Dakota farmers and ranchers, play an important role in that every-day aspect growing the food that not only our communities and state and country needs, but the food that our nation will send across the seas to other countries.
Sometimes getting to the end game of where we want to be is uncomfortable and causes a little pain. But we can't make improvements without stretching out of our comfort zone.
Now it's not a popularity contest that I'm voting for. When I vote, it's for the best interests of our agricultural life that I make that decision. I'm not afraid to say I'm casting my presidential vote for Donald Trump. Yes, we may not like his tweets at times, we may think he's a little bit brash. But like I said, it isn't a popularity contest. This contest is about who can get things done and is willing to challenge those that want to do unfair business with us. And I think he has that proven track record, rolling back regulations that are burdensome on farmers and ranchers, taking on countries that want to put pressures on us and have requirements they don't require on any other country to do trade with them is the reason I'm making that vote.
I encourage you to look at the candidates. Look at their running mates and the statements they have made, not only on agriculture but on energy, also. Because in North Dakota, we lead the way, not only in this country, but in the world with our agriculture and energy sectors, which is thriving and is waiting to business with the world.
September 8, 2020: As if too wet or too dry weren't enough, last night some parts of the state got well below freezing, which is pretty early in the season. But farmers and ranchers are resilient.
Download and listen to the Weather comes with a price tag mp3
Read the transcript:
A little frost on the pumpkin already happened this year. Portions of the state saw below 32 degrees, in fact some portions saw 20 degrees, which is fairly odd for this time of the year. It's a little bit before the average frost date, but then we must remember, to get an average, you need an early, and a late, which gives you an average date.
This frost reminds me of the many variations of weather that can affect the outcome of a crop. It can affect the production of a very needed food. And how a frost, or not enough rain, or too much rain, or wind, those variations often come with a price tag. A price tag of loss of bushels. A price tag of loss of quality. The price tag of destruction of property and the price tag to the local communities.
As farmers end up with less in their pocket, they spend less in town; therefore, the realization of just how important agriculture is to the great state of North Dakota. We are the backbone – farmers and ranchers – of not only our state, but of our great nation. And as agriculture goes, so do the small communities. Even the larger communities see an impact.
It's a wonder that farmers and ranchers remain eternal optimists when everything when everything we do can disappear in a matter of minutes or hours based on the different weather conditions.
We at NDFB love the fact, we get to represent the best, the most optimistic, the most productive farmers and ranchers, and that's the farmers and ranchers of North Dakota.
August 25, 2020: NDFB worked hard to get a U.S. Fish and Wildlife wetlands delineation appeals process on the books, but sometimes the devil is in the details.
Download and listen to the USFWS wetlands delineation appeals process concerns mp3
Read the transcript:
Land takings, wetland easements and how do we fix the issues with the U.S. Fish and Wildlife Service and their many wetland easements they have throughout the state of North Dakota.
On August 19, I was invited by Senator Cramer to join a roundtable discussion with the director of the U.S. Fish and Wildlife Service, Director Skipwith. She came to North Dakota to hear our concerns. And these are concerns of a positive action. I know it's hard to believe there can be concerns of a positive action, but for the first time in history, there is an appeal process, which has been set forth by this Administration and the U.S. Fish and Wildlife Service through the direction of the Department of the Interior.
While that's a positive that we finally have a way to appeal where these wetlands are, the process to do it is cumbersome, not equitable and plays favorites to the government rather than to the landowner themselves. That is what we wanted when we advocated for an appeals process. NDFB was advocating for this process, working with Senator Cramer, Senator Hoeven, for a lot of years. Back when Senator Cramer was a congressman, he was working on these water issues.
At that meeting we heard nothing but concerns. We did not hear one positive thing about this appeals process and how it was being handled and administered. That's sad, because we thought we had a good thing. And we do still believe it's a good thing. But it's going to take some major adjustments to get it equitable for all of our farmers and ranchers.
Thanks again to Senator Cramer, Senator Hoeven, Ag Commissioner Doug Goehring, for voicing your concerns to the director. And thanks to Director Skipwith for coming out and listening and now hopefully she will take action on what she heard that needs to be improved with this wetlands mapping delineation appeals process.
And at NDFB, we will continue to fight for the rights of private property and to restrict the government in unfair practices which takes more land than what they actually, contractually paid for with their original easements.
August 11, 2020: NDFB is looking for input from its members on how it can better serve all it's members through a new survey.
Download and listen to the 2020 Member Survey mp3
Do you believe research is important? At NDFB, we believe that research is very valuable to all of us in agriculture. It also valuable to us at NDFB as an organization. Providing some information, doing surveys, researching what our members are in need of, what their thoughts are, and as we go into the future, what they see as a need from us as an organization to provide service and to provide advocacy and opportunities for our members.
Currently, NDFB has deployed Aimpoint Research to help us with a survey of our membership; our historical members along with our new members, we are asking for information of how to better serve our membership going forward.
About every five years or so, we embark on a strategic plan. It gives us that focus and that valued information to make decisions for our organization to keep us growing, to keep our organization the most effective ag organization in the state. Heck, probably in the region, maybe in the nation.
We're proud, at NDFB, to say that we ask our members for input. We are a grassroots policy development organization, and this grassroots information in this survey will serve us for the future of our members, whether you're a farmer or a rancher, or a member that is an associate, we want to accomplish things that will make every member successful in our great state of North Dakota.
So, when you see this email, please take the time to fill it out. Give us your feedback so we can make better decisions based on our memberships' input, that we value so much at NDFB.
July 28: No Dialogue issued
July 14, 2020: County annual meeting season is underway. These meetings are the heart and soul of our NDFB policy development process.
Download and listen to County Annual Meeting Time mp3.
Read the transcript:
Well, it's middle of summer. And that means NDFB's county leaders are starting to plan and having their county annual meetings. This is the first step in our policy development process. This is where the initial policies that we'll see in November at our annual state meeting will originate from these summer and fall activities in each county.
You know, ideas come from individuals that are members. They're brought to their county at these annual meetings. They're discussed, they're debated, they're changed, they're amended, and they are passed on to the district and from the district to the state level, where we debate 'em again! And we get our final policies and our direction for the following year, at NDFB.
Today, as I speak to you here, I'm pulled over alongside the road looking at canola fields, looking at wheat fields, on my way to Bottineau County for their annual meeting. You know it's one of those years where you go, "How can we do this?" "Should we do this?" "Is it possible?" And as I've been telling counties and our district directors have been telling counties and our staff, "If there is way we can help you accomplish it in a way that you feel you can, we're here to help you."
You know, life has to go on during these times. We have to do the business of our organization. We have to advocate on behalf of our great farmers and ranchers that are members of NDFB. Because not only do we have to tell that story locally and at the state level, but we have to tell it nationally and internationally. And our policy development process is second to none. There's no other organization out there that has this true, grassroots policy development process.
At NDFB we're proud of our leaders across the counties, for figuring out how we can do the policy process, how we can work on our advocacy even in these challenging and confusing times that we're in.
We're going to get through, folks, and it's a pleasure to be on my way to meet with the great members of Bottineau County Farm Bureau, and it's going to be awesome to meet with members across this state through this whole policy development process, which starts right at the county level.
From NDFB, we wish everyone a successful summer and a great fall as we move that direction. Be safe. Still a lot of field work going on. Spraying. Haying. And it gets busier from here on out. So pay attention when you're driving on the roadways. Enjoy those beautiful views that I have here of this canola field right now and as farmers and ranchers, pay attention for those friends of ours that come out to the country and enjoy what we get to see every day.
June 24, 2020: From a drought in the west to prevent plant in the east, North Dakota is experiencing it all. But there is still a lot of beauty out there, and we want you to photograph it!
Download and listen to Drought, prevent plant and photography
Read the transcript:
The summer is upon us here in North Dakota and with summertime comes variable weather patterns. Farmers and ranchers across our state are seeing that variable weather pattern play out once again.
North Dakota is a unique state. From east to west there are differences of terrain, soil type, use of land and what the weather does. While we have certain areas of the state that just came off of having more prevent plant acres than they have for a while, other areas are needing a rain. There is a drought setting in, and it's concerning. Droughts during these times of lower commodity prices, the uncertainty from the whole Covid-coronavirus reaction, add to the stresses that farmers – and especially ranchers – are seeing in those areas.
We're getting reports from members that they're hoping that their hayfields make at least one bale to the acre. They're HOPING, it makes one bale to the acre. That's concerning. And then we have other areas of the state, like I said, that have dealt with some prevent plant.
You know, farmers and ranchers are meant to grow things. They're meant to produce things. That's our lifeblood, growing and producing food for our state and our country.
And you know, it's these times that make you sit back, look across the landscape and some positive things can be found out there. And so, when you're out there, even if you're in the drought area, and you run across that silver lining that you come by, you know you're looking across that pasture and you see that nice young calf profiling with their mother, snap a picture of it. You know, if you see a meadowlark sitting on a post, snap a picture of it, a nice picture of it.
If you're in an area where the winter wheat is headed out and the waves of grain out there – and pretty soon we're going to be looking at the golden waves – you know, snap a picture of it.
Up until September 1, NDFB will have a photo contest. So even knowing there has been some trying times, find that silver lining. Capture it in a photo. Capture it in a nice image. Enter it in our contest. We have some nice prizes: $300, $200 and $100 for first, second and third.
But more importantly, maybe it'll give you a chance to reflect on the blessings and the positive side of what's going on out there, because there is nothing greater than God's creation as we look across it. And we are honored, as farmers and ranchers, to be the caretakers, the stewards of all He has given us.
From NDFB, we wish everyone a happy summer, a safe summer, and hopefully a productive summer for all of our members. And for the folks living in town, enjoy the beauty that you see in the countryside, knowing that farmers and ranchers are doing their very best to care for those natural resources.
June 9, 2020: Do you want a say in how things go? You can make a difference by getting involved in NDFB's grassroots policy development process.
Download and listen to the Get involved, chart our course mp3
Read the transcript:
Yes, we may have been living in some crazy times here and they seem to be continuing. A lot of angst in the world. A lot of angst in our country, even our state and especially in our close neighboring states. But there's one thing that people can be rest assured of: If you're a member of NDFB, your voice can be heard.
And I'm talking about our policy development process. Right now we have counties looking at scheduling meetings so they can have their policy development discussions; they can bring ideas, the grassroots members can bring ideas of what they feel is important policy for things that need to be improved, things that need to be changed, or enhancements to make rural life better here in North Dakota. Not just for our farmers and ranchers either, but we want life to be better for all North Dakotans.
So, as counties are starting to plan these meetings, as a farmer and rancher, as a voting member of NDFB, be thinking about those issues that are close and dear to your heart and your livelihood that need improvement. Bring those policies forward. Come to your annual meeting at the county level where they will debate them, they will pass the ones on that they feel should go on to the district, where they'll get debated again, and they'll go on to the state level for the rigorous, vigorous debate between all the representatives from the counties throughout the whole state that represent the members all across the great state of North Dakota in NDFB.
And this grassroots policy development process is unmatched by any other organization in the state of North Dakota. And we're proud to say that we listen to our members. We hear our members. They pass the policy and we advocate on behalf of that policy.
Become a part of the process. If you're not a member of NDFB and you want a say in how things go, and how to make things better for agriculture and rural life, then join and get active at the county level, where this process starts. And it'll start soon when counties start announcing their annual meeting dates. So, get involved now. Become involved. Stay involved, and have a say in the direction of the policy that we pass for the direction of the NDFB process of advocating on behalf of all of you, our members, farmers and ranchers, throughout North Dakota.
May 12, 2020: 2019 was not kind to agriculture. 2020 is not looking much better. But even in unprecedented times, we can enjoy the beauty of the world around us.
Download and listen to What's the outlook for ag?
Read the transcript:
What is the outlook for the remainder of 2020 in regard to agriculture? This is a question I have been getting a lot lately. Members. Non-members. Farmers, ranchers, consumers, are all asking, "What lies ahead?"
It's hard to say. These are unprecedented times that we're in. But one thing's for sure: farmers and ranchers are proceeding to continue to grow the food that our state and nation needs.
Yes, we're in that busy time of the year. Planting season, finishing up calving – some folks maybe just starting to calve – looking at moving cows to grass. Some are still trying to figure out how to harvest the 2019 crop.
Yeah, it's unprecedented times. It was unprecedented times for agriculture in 2019. And it continued and got even more unprecedented in 2020. So, I'd like to take just a minute and remind everyone, there's probably going to be more people just taking a leisurely drive out in the countryside when events are being canceled and things aren't completely opened up in towns. Remember, our farmers and ranchers are moving a lot of equipment – heavy equipment – trucks, tractors, and sometimes combines yet this spring. So just be cautious. Take a little extra time. Don't rush.
And to our farmer and rancher friends out there, remember to keep your eyes open.
Because we do enjoy sharing the beauty we live amongst out here in the countryside, so everyone needs to be a little more cautious.
At NDFB, we hope everyone has a safe, productive spring. And remember, to take your time. Enjoy those simple things in life at this time, because the beauty of nature is still a constant. That has not become unprecedented. It still is a wonder of what God gave us to manage here on earth.
April 28, 2020: COVID-19 has disrupted our lives and our supply chains. But farmers and ranchers are still out there working to keep food on your table.
Download and listen to Ag has your back
Read the transcript:
We're living in interesting times right now with COVID-19 at the helm of, well, shall we just say it, chaos.
And in agriculture, we see the chaos from the supply side, from the production side and the lack of available markets from time to time, now, as processors in virtually every segment of food production are having slow-downs or shut-downs because of outbreaks of COVID.
And at NDFB, we want the people of North Dakota to understand that the farmers and ranchers will still produce that high quality, highly available and affordable food source.
Yes, we're seeing possibly some interruptions in the supply chain and the delivery. We will work through those. It's causing issues with pricing and availability of markets for farmers and ranchers. It may cause, once in a while for you to see some empty spaces on the shelf. But do not panic.
There's no need to panic buy or hoard. We do not need to do with food as happened with toilet paper at the beginning of this pandemic. Yes, it's always smart to have a week or two of food on hand, either between your pantry and your freezer or your fridge. But we don't need to hoard months upon months of supply of food items. You might have to wait a day or two for certain items. You might have to wait a week for certain items. Rest assured, there will be food in the system because the farmers and ranchers continue to produce it every day.
We're working, from NDFB, along with American Farm Bureau, our affiliate, and every ag producer out there to make sure our markets get up and running, our processors get up and running, to have a place for us to go and deliver the food we grow. So that it can be processed and delivered to you, the consumers.
If you have questions, feel free to reach out. NDFB-dot-org is our website. Follow us on Facebook and ask the questions and we'll get the answers right from farmers and ranchers, about your food that you buy to feed your family.
So, from NDFB, stay safe and stay healthy in these uncertain times, as we go forward. And we, as farmers and ranchers will continue to produce the food you need.
April 14, 2020: Our state's economy has been grinding to a halt. Our ag markets are foundering. It's time to take a hard look at what we need to do to get our state back on its feet.
Download and listen to Freedom, opportunity, self-reliance and COVID-19
"I'm from the government and I'm here to help." A quote of Ronald Reagan regarding the scariest words in the English language.
Folks, we're in a time of uncertainty; a time where it seems that panic is overtaking critical thinking. We at NDFB enjoy the opportunity to represent farmers and ranchers and North Dakotans. We want everyone to prosper, to succeed. We believe in three very basic principles: Freedom, opportunity and self-reliance.
We can't always count on the government to make the right decisions. We hope those decisions are made on factual science and factual statistics, and statistics that are not skewed. Our leaders have a tough job balancing the safety of our nation, the safety of our state, along with protecting those freedoms, those opportunities, and making sure that people have opportunity to be self-reliant.
Markets have taken a hit on top of already a half a dozen years of a stressed condition in agricultural markets, especially in the livestock side as of recent. Deeply falling markets are causing a concern, which in turn will cause a concern even more so in our feed production, our grain markets. Because if we're forced to liquidate our livestock herds, our local and domestic demand for our grains will also be impacted. There is a bright spot here and there. Wheat has taken a rally out of this, but a lot of that is because of weather in other areas of the world where it is produced.
So, I say this: Try and cut through the confusion. The best way to do that is, remember God does not create confusion. Evil creates confusion. This is the time to reflect, a time to do some deep soul-searching and a time to realize that we, as a people, need to reach down, pull up our boots, get back to work, be courteous and understanding of the concerns of others out there and talk to our political officials and let them know that we're here to go forward as Americans, as North Dakotans, that we do care about the health of Americans. And in that health is everything from disease protection, to mental stability and financial stability. All three have to be considered in future decisions. And at NDFB, we stand behind our farmers and ranchers, the greatest producers in the world, right here, in North Dakota.
March 24, 2020: The COVID-19 pandemic won't stop farmers and ranchers from providing the food, fiber and fuel we all need.
Download and listen to #StillFarming despite COVID-19 mp3.
Without a doubt it is an interesting time we live in right now. You know there is fear out there. Uncertainty. People wondering what's next. Where do we go from here. And the best message I can give is we need to remain calm. Panic does not help sound decisions.
Yes. There are certain things we need to do. Some precautions we need to carry out right now. But there's no need for panic. This will come and go. We will make it through and there will be a brighter day on the other side of the COVID-19 pandemic.
We've had to make some changes at NDFB. We've had to cancel and reschedule some events that some of our counties were going to put on. Some great events. Some very informational events. But now is the time to focus on yourself. Focus on your family, your community. Make the necessary changes that you need to make and by all means, remember those that are maybe in a more difficult position. Those that may be a little bit more susceptible to COVID-19. Remember those people when you are making decisions.
Now, should we shut down our everyday lives for an indefinite amount of time? Absolutely not. Make an adjustment. Making sounds decisions. Carrying on with business because we need to do our business, and that is exactly what farmers and ranchers are doing as we speak.
You can know that the American farmer and rancher, that farmers and ranchers across the great state of North Dakota are working hard every day to make sure that you have a safe and abundant supply of food year in and year out.
This pandemic doesn't change that. In fact, it shows the resiliency of the North Dakota farmer and rancher, the American farmer and rancher of what they will do to carry out their obligations to grow the food that we so much need for not only our nutrition, but for our national security. And thank God that we have these dedicated folks out on the land carry for the natural resources to provide the nutrition that we require.
They'll be here. They'll be working. And people will make adjustments as needed and continue on as we get past this time of uncertainty.
March 11: The U.S. Fish and Wildlife Service has initiated an appeals process for wetland easements in the Prairie Pothole Region. This is important for landowners.
Download and listen to the USFWS appeals process mp3
Read the transcript:
It's a first. The U.S. Fish and Wildlife Service has made an attempt to allow for an appeals process regarding wetland easements in the Prairie Pothole Region.
They have sent out the first round of letters in which they have the maps of the delineated wetlands. This is important. It's coming by certified mail. If you are a landowner, open and read these immediately. If you rent land from somebody who has these wildlife easements on their property, contact them. Stay in contact with them to make sure you know if and when they receive these letters because the appeals process kicks in the day that they receive the letter.
You have 40 days from that date to decide if you're going to appeal and to get that appeal paperwork in to the U.S. Fish and Wildlife Service. This is a step in the right direction for accountability of how agencies work with farmers and ranchers, in the regulatory process.
It's a three-step process. There are three different levels of the appeal. And there are extremely tight timelines that they must follow also. So hopefully, the process is expedient. But most importantly, hopefully the process is just and it does good by the farmers and ranchers in North Dakota.
Share this message. Get the word out. Our congressional delegation, specifically Senator Cramer and Senator Hoeven, worked hard to ensure that this accountability piece was put in place. And once again, the Trump Administration is at work to hold agencies accountable and to ensure regulatory reforms happen which are positive for farmers and ranchers.
And at NDFB, we say thanks to our senators and thanks to the Secretary of the Interior for putting forth this good start to hopefully have some resolve in the disputes between the U.S. Fish and Wildlife Service and farmers and ranchers in North Dakota.
February 25: From FFA and 4-H to our own programs, NDFB is a proud and strong supporter of youth activities and education.
Download and listen to the NDFB supports youth mp3
Read the transcript:
Spring is in the air. It's just around the corner. Daylight savings time, just a short week and a half away where we spring forward with our clocks.
Other events out there right now that are pretty exciting is, we're in the middle of FFA Week right now in North Dakota. NDFB being a big supporter of FFA salutes all the chapters across the state; the teachers, the advisors and all the members, the youth of the FFA.
Some other interesting timelines and deadlines having to do with youth, is this year, for the first year, NDFB has entered into a partnership with the North Dakota 4-H Foundation and the 4-H camp to provide support, assist in the training at the camp and encourage kids to attend a couple of the camps at the 4-H camp at Washburn: The Livestock camp, which is in June and the Destination Science camp in August. You can find out the information by going onto our website, ndfb.org, you'll be able to find a link.
The reason I say there's some deadlines and some opportunities coming up is March 1 is when they'll start taking the signups for the 4-H camps. They may fill fast, so if you want your kid to attend a high-quality camp, make sure you check in sooner than later because March 1 is just around the corner.
Another way that we help assist our youth – any youth out there that their family is a member of NDFB – can apply for scholarships to further their education. Even if it isn't an in-state college they're going to, March 15 is the deadline to apply for the NDFB scholarships.
This is a way that we can continue supporting youth from out there on the farm and ranch to help them succeed in the endeavors that they so choose to further their education.
So, we have a lot of involvement with all these great youth organizations we have. And this week we salute the FFA during FFA Week in North Dakota. We remind you if you want your kid to attend 4-H camp to check that out, and more importantly if it's the Livestock camp or the Destination Science camp, you can get that information our website, and if your family is a member of NDFB, check out our scholarship opportunities. The deadline is March 15.
And we hope everybody has a great week and a great month leading up to the charge to springtime.
From NDFB, congratulations to all the youth that are involved in agriculture, who we work hard to support throughout the year.
February 11: For the first time ever, the NDFB Foundation is participating in Giving Hearts Day, a day set aside for people to donate to their favorite charities. Find out how the NDFB Foundation provides hope for the future of agriculture.
Download and listen to the 2020 Giving Hearts Day challenge mp3
Read the transcript:
Giving Hearts Day is this week, February 13, and NDFB Foundation asks for your support.
But let's go on a little bit of a journey, first. A journey to the lambing barn. Now, just bear with me folks. Follow me on the journey.
As we're asking for donations on Giving Hearts Day, today was shearing day at our farm. And I got to thinking about all the things that agriculture gives us. And while we were shearing, I was particularly thinking of what sheep give us.
Of course, all of agriculture is renewable. We utilize resources that regrow, to produce goods and food that we sell. And a sheep is very unique. Not only do we get meat from sheep, which is very nutritious – not highly consumed in the United States such as pork, chicken and beef – but nonetheless a very nutritious source of protein and other nutrients. But they also give us wool. A fiber with excellent insulating value. Wonderful warm blankets, warm socks are made from wool. Liners and gloves and, oh yes, Joaquin, people even drink milk from sheep, not just a cow. You'll be proud to know that, Joaquin!
I digress!
As I was watching the shearer do his job, I was thinking how lucky we are in agriculture to experience what these animals give us. And then I was thinking how many people don't fully understand because they're generations removed from the farm, the actual physical work, the actual appreciation of what we get.
This leads me into our request and how you can give to NDFB Foundation. If you think that the message, like this message about what sheep give us, a message of all of agriculture and what it provides for us, is important, we ask you for your donation.
If you think helping provide assistance to those that go to further their education in college, that'll be great advocates for us in agriculture, in the future, we ask you give to us at NDFB Foundation.
And finally, here is a challenge directly from me. I have the privilege to be the president of NDFB, and so, up to the first $500 given by individuals, I will make a match. So, if you can afford $10, $25, $50 or $100, the first $500 given by individuals will be matched by me, personally. Because I do believe that sharing our message is important. And I believe that at NDFB, we do that very well every day on behalf of our great farmers and ranchers who are our members and are the best at what they do; growing the products, taking those things that are given from these animals and resources, and distributing them to the world for the nutrition, the fiber, the fuel and the pharmaceuticals we all enjoy and need.
Go to our website, ndfb.org and you can click on the link to donate this Giving Hearts Day to a cause that is more important now than it ever has been to tell the story of agriculture. And we thank you from the NDFB Foundation for your support.
January 28: It's a wrap on the 101st AFBF Annual Meeting and Convention, held Jan. 17-22, in Austin, Texas. It was a successful meeting, with one of NDFB's policies being implemented at the national level.
Download and listen to the 2020 AFBF Annual Meeting recap mp3.
Read the transcript:
And that's a wrap. Another year has come to an end of the American Farm Bureau Federation's Annual Meeting and Convention. Which means a year's worth of work deciding what kind of policy that a member wants, taking it to their county, which then goes to their district, ends up at the state level and eventually on to the national level at American Farm Bureau Federation, to see if that idea that was a member-driven policy from the grassroots, gets placed into the book or not.
It was a good time in Austin this year for the American Farm Bureau Federation 101st annual convention, finishing up 100 years of advocating on the behalf of farmers and ranchers all across this nation.
The policy is what drives our organization. It's that grassroots policy development that drives the very thing that we're about: Creating a position which then we advocate on the behalf of to try and make changes where they're needed to make the lives of rural citizens – farmers and ranchers – better across this nation.
There was a lot of policy debate. In fact, it took a whole day to get through the policy and in that time, NDFB had a big win. One of the policies that came forth from our grassroots membership was adopted without a fight. And that policy is to support the repeal of Swampbuster. And if you're a farmer or rancher in the Prairie Pothole region, you know how overbearing some of the interpretations of wetlands have been when it comes to complying with Swampbuster.
There were also a lot of other good policies there, but that was the highlight from NDFB, and we are proud to be able to represent our members at the American Farm Bureau Federation level with their grassroots policy.
And that's a wrap, but we're already starting to work, and our members are starting to develop the ideas that they believe will be important for their policies they want to implement this coming year.
So, stay tuned. The work starts over and we'll be back at it again a year from now, seeing which of our policies get implemented at the national level once again.
January 14: The NDFB Farm and Ranch Conference is coming to Fargo at the end of the month. It promises to be a don't miss kind of event, so makes plans to attend!
Download and listen to the 2020 Farm and Ranch Conference mp3.
Read the transcript:
Are you looking for a little enjoyable weekend getaway, gathered with other farmers and ranchers from throughout the state? If you are, join us January 31st through February 2nd in Fargo. It's our Farm and Ranch Conference put on and hosted by our Young Farmers and Ranchers Committee, who have spent the last year planning a tremendous event.
There'll be entertainment, there will be educational breakout sessions. If you want to learn about precision ag, or maybe you want to just find out what's new in barbecuing from BBQ Bootcamp.
Friday night, we'll have the Farm Babe, a very famous blogger who will be there and share her story of being a city girl turned farm girl in Iowa. So, there's something for everyone there. But most of all, it's the gathering together of farmers and ranchers, NDFB members from across the state to visit, share their stories, talk about issues that concern them, learn about similarities from one end of the state to the other, or learn how things are different.
Oh. And don't forget, maybe you're that person that likes to have very in-depth discussions, or detailed discussion or debates. The Discussion Meet will be held where someone will win a Polaris 4-wheeler and a trip to the 2021 American Farm Bureau Federation convention to compete at the national level. So, if you're needing a new 4-wheeler, maybe that's motivation enough for you to come.
January 31st through February 2nd in Fargo, gathering together will be a good time at the NDFB Farm and Ranch Conference.
December 23: Merry Christmas! Most farmers and ranchers are probably happy to see 2019 almost in the rearview mirror. Nevertheless, we have much to be thankful for.
Download and listen to the 2019 in the rearview mirror mp3.
Read the transcript:
The Christmas season is upon us. And just around the corner is the hope of a new year, 2020. Farmers and ranchers are probably more than willing to put 2019 in the rearview mirror.
It's important to reflect on what happened in the 2019 year, but that's only a reflection and we just have to glance in that rearview mirror to see how things worked or didn't work in many cases this year.
But we need to continue looking out that windshield of life to the road ahead of us, the road of new hope, new opportunity and new thankfulness for what we're provided.
The Christmas season can present some challenges for many folks who are reflecting on what they may or may have not gotten done this year. Or for some, it may be the first Christmas without that special loved one.
This season can be challenging, just like any other day can be challenging. We can have our rough days, our bad days, and we wonder how we're going to make it through or why we should trudge through those rough days. But we have to remember we have all faced rough days in our past and we've all survived them. And we can continue to do that. Yes, sometimes it's not easy, but other times it is when you look around you and count your blessings.
There are those that are more fortunate with material things than others, but yet the important things, the reason for the season, God placed His only Son here on Earth for a promise of salvation.
We celebrate that this Christmas season and we celebrate the new year coming to provide that new hope that new opportunity that we can take and hopefully have a more successful year than the one that's in the rearview mirror.
From all of us at NDFB, we wish you a blessed and Merry Christmas. And may the new year provide new opportunities and many successes.
December 10: NDFB will be in Washington, D.C. December 16-18 for the AFBF Resolutions Meeting. Learn more about how it all works.
Download and listen to the Resolutions to AFBF mp3.
Read the transcript:
We are approaching the final leg of the policy development process of the Farm Bureau network. December 16th through the 18th, presidents from each of the states including Puerto Rico, will be at the American Farm Bureau Federation office to discuss the policies sent forward as national policies from each of the individual states.
During the 77th annual meeting and convention, we had a very rigorous and vigorous – yet respectful – debate on what policies should guide our organization going forward. And some of those policies were national policies that we forwarded on to the AFBF. This is the first phase of the two phases that happen for national policies to be set. This one includes the presidents having the rigorous, vigorous debate around the table to decide which ones will go on for consideration at the annual meeting in Austin, Texas in January.
This is not taken lightly. All of our state leaders understand there are unique things when you talk about different regions of the country – or each individual state – and we have to be respectful of different issues in different areas. But rest assured, we will be making our case for our issues that we saw, that needed to be addressed for North Dakota farmers and ranchers. And we will work hard to make sure that they get forwarded on to the national convention in January.
Once they get to the national convention, they'll go through another rigorous and vigorous debate with the delegates who are assigned from each of the 50 states and Puerto Rico to discuss as a large group and decide if it's something that should be implemented into national policy or not.
This is a grassroots policy development organization all the way from the county level in North Dakota to the federal level of American Farm Bureau Federation.
At NDFB, we fight for our great farmers and ranchers, and we believe that the policies our members bring forward are as important as any other policy brought forward by any other state in the nation.
November 12: NDFB is part of the largest agriculture network in the United States. And that network is American Farm Bureau Federation, which just happens to turn 100 years old today.
Download and listen to the NDFB part of biggest U.S. farm network mp3
Read the transcript:
November 12 marks the day 100 years ago of the founding of American Farm Bureau Federation. The largest farm organization. The largest advocacy group on the behalf of all agriculture. And NDFB has been a part of that affiliation over three-fourths of that time.
Next week, we will have our 77th Annual Meeting at the Holiday Inn in Fargo. Delegates from across the state, counties from east to west to north to south, will come and debate policy. It will be a rigorous and vigorous debate to set the forward path for the following year of the policies that we advocate not only here in the state but also on the federal level.
That's why it is such a great opportunity to be a part of the largest ag network, the American Farm Bureau Federation. Over six million members strong, there is not another farm organization that even comes close to the clout we have when it comes to policies decisions in our nation's capital, and right here in our state and in our local communities.
It's our great local leaders – our membership – that gives us the clout, that gives us the advantage of having the boots on the ground, to get the policies implemented. Whether it's at your local schools, at your townships, your cities, your counties, the state, or the federal level, Farm Bureau, NDFB and AFBF together, advocate for the policies to make sure that the number one, and most noble profession farming and ranching is enhanced and protected not only in our great nation, but in our great state.
So, join us November 22 and 23 at the Holiday Inn in Fargo to see what NDFB is all about and what we advocate for. More importantly, how our grassroots policy process really works.
October 22, 2019: Mother Nature has not been kind to North Dakota this growing season. Governor Burgum has issued a statewide flood declaration to help ease the burden and NDFB wants to remind farmers and ranchers that you are not alone.
Download the flooding and farm stress mp3.
Read the transcript:
This week Governor Doug Burgum signed a state-wide flood declaration, setting up North Dakota to receive federal funds for disaster. He also, along with Ag Commissioner Goehring, spent Monday meeting with farmers, ranchers, people who live in the rural areas across the most heavily devastated parts of the state. And we thank him for that.
They heard the views of people that have roads washed out, are going to have crop left in the field or they may even have losses in livestock. There may be bins sites they can't get to, or feedlots they can't utilize. There's a multitude of problems out there.
Some are questioning why the statewide declaration. There are places all across the state that we have received photos of haybales sitting in a foot or two of water, fields having water halfway up on the crops, small grains still left in the fields at the end of October.
These stresses faced by agriculture and our rural communities need to be managed and handled. No one is alone in this. It's covered a broad range of agriculture producers and small communities, and even our larger communities having to deal with an unusual flooding event, immense rain events, huge snow events, in October.
At NDFB, we want everyone to reach out, visit about it, talk about it. Know that you're not alone. Work on solutions together. And advocate together on the behalf of every farmer and rancher in the great state of North Dakota.
You're not alone. We are there advocating for the assistance needed to make sure that roads are open, you're able to move your goods and your commodities when you are able to get to them and advocating for policy which strengthens rural communities.
Farmers and ranchers are a resilient bunch but don't let that food anyone that the stresses at times can be overwhelming. Talk to your neighbors. If you live in a small community or in a large city, reach out to your friends that you know are out in the countryside that are having the struggles and don't be afraid to stop by to the neighbors to just say hi. You don't have to talk about how tough things are, but just stop by, because that is what we in rural North Dakota, the heartland of America, do for one another.
October 8, 2019: Getting a chance to sit down with a member of President Trump's Cabinet and explain our concerns in farm country is very much welcomed and appreciated at NDFB.
Download and listen to the Meeting with the Interior Secretary mp3
Transparency and open dialogue. Whether you believe in everything or agree with everything that President Trump does, the one thing we truly appreciate at NDFB is the openness and availability to his Cabinet members.
Last week, we had a chance to sit around the table with Secretary of Interior Bernhardt. Secretary Bernhardt was very gracious in his time spent listening to landowners' concerns, especially when it involves easements on wetlands.
At NDFB we appreciated his very straightforward, very direct message that whatever they paid for and have a contract on probably has to be honored. But, when you leave the boundaries of those wetlands, to him it didn't make sense why there was any jurisdiction for the U.S. Fish and Wildlife Service.
Those words warmed the hearts of those of us around that table. We have to thank Senator Cramer, Senator Hoeven, for having the Interior Secretary visit North Dakota.
He also stated that there are many things that they are working on. One of the things is to actually have an appeals process, instead of just being deemed guilty of a violation, to actually have a process that you can appeal when they claim that you are in violation of those easement agreements.
It's refreshing to know, albeit they're small baby-steps, that we are moving in the right direction when it comes to our regulatory burden that is put on us by our agencies in our very own government, right here the free country of the United States of America.
At NDFB, we love the fact that the openness, the transparency, the very directness in answering questions that we get from these Cabinet members and appreciate the Administration and President Trump to make sure that his folks are having discussions with the very people that elected him in 2016.
September 23, 2019: Members are at the heart of what makes NDFB a thriving, action-oriented organization. Here's how it works.
Download the Member involvment charts organizational course mp3
Read the transcript:
Membership involvement makes for a great organization at NDFB. We are nearing the end of the first phase of our grassroots policy development. And what I'm talking about is our county annual meetings. We've been all across the state – from the northwest to the southeast, from the northeast to the southwest. This next week or two will wrap up the majority of those county annual meetings, and that first phase, that very ground floor, that grassroots policy development phase that we pride ourselves on at NDFB.
Our policy is driven from our membership. We do not push policy from the top down. It is policy that is thought of by an individual, then brought to the county where they debate it, they discuss it, they fine-tune it, then that resolution goes on to the district where the counties in each district debate it, discuss it and make it better again. And finally it will end up – November 22nd and 23rd – at our annual meeting and convention in Fargo. And that's where delegates from each county will have a very robust, vigorous and rigorous debate of the direction that our policy should go for the following year at NDFB.
It's a very steadfast and deliberate process to make sure we have our policy that falls in line with our philosophical principles and beliefs that we were founded on over 75 years ago. And I thank all theNDFB members for doing your little part in making sure that our policy gives us the direction that we need to carry out the great advocating process that we have at NDFB, on behalf of all farmers and ranchers, in the best state in the nation, right here in North Dakota.
September 10, 2019: You can help get the United States, Mexico, Canada agreement passed in Congress.
Download the How you can help get USMCA passed mp3
Read the transcript:
Farming and ranching is full of challenges. Those challenges vary from weather, pests like insects, predators like coyotes. Prices have been a challenge, and many are trying to blame all the price challenge on the trade issues. Trade issues have only been at the forefront for a little over a year. However, deflated market prices have been around for nearly five years.
Now, we don't want to dismiss that there is some impact from the trade challenges, but many trade deals have happened for the positive. Some are still in negotiations with the Trump Administration and others are laying on a desk waiting for action.
And what I'm talking about is the USMCA, the United States, Mexico, Canada Agreement, the renegotiated NAFTA deal. Those countries came together, came to agreement, and now politics are being played by Nancy Pelosi, Speaker of the House, by not bringing it to a floor vote.
Everyone in agriculture is pretty certain the votes are there to pass it, and maybe that's the problem. They're playing politics with an agreement in hand, ready to be enacted, but the inaction of Congress is our problem.
You know these challenges cause a lot of anxiety in farm and ranch country. There's two things I want to leave here today.
One: When challenges are being faced, don't be afraid to reach out and have discussions with those closest to you, or maybe someone that you haven't talked to for a while. And just work through those challenges in your mind and with someone else to help understand what you're going through.
And secondly: An action item. We need everyone to reach out to Speaker Pelosi and tell her, "Remove this issue from the table that's creating challenges because the deal is done. It's ready to be enacted, if we can get past the inaction of Congress."
At NDFB, we know that, that deal isn't perfect, but it's better than what we had, and it needs to be enacted to give us the markets with our neighboring countries.
Make that call. Take the action. And call for it to be brought to the vote, to remove a challenge we are facing.
August 27, 2019: Everyone is talking about China and trade with that country. But what about the agreement in principle to a new deal with Japan?
Download and listen to the Trade agreements mp3
Read the transcript:
There are many things that weigh on the minds of farmers and ranchers. One of those things that gets highlighted quite regularly is trade. Trade is important to the United States because we are the best at producing an abundance of food, not only for our nation, but for the world.
To market that abundance, we need good trading partners. And it seems that everyone is focused on China. And albeit, China has a very large population and needs a lot of food, it is not the only trading partner that's important. In fact, over the weekend, Japan agreed to a new trade agreement with the United States. It's not inked yet, but they agreed in principle, that will give us the same things that we would have received in TPP, the Trans-Pacific Partnership.
This is big. This is extremely big for agriculture, especially for our beef industry, because Japan likes to buy the United States premium beef, and that premium beef is grown on the northern plains, and North Dakota has some of the elite genetics to produce that premium beef.
But there's also talk of corn, and pork and other important things to their diet in Japan which we raise high quality products over here.
So too often, we are led down the path that destruction will come, it'll be the death of farming and ranching if we don't get a deal with China. But those same folks saying that are overlooking important deals such as the Japan agreement in principle. And might I remind you some of those same people that are saying that the president and the administration's trade policies are the death of farms and ranches are the same ones that are holding up ratifying the United States, Mexico, Canada agreement.
It's time to call Nancy Pelosi and tell her, "Get that trade agreement out for a vote. Get it passed." Because by holding trade agreements and not ratifying them is doing way more damage to farming and ranching than the renegotiation for better deals is doing.
At NDFB, we encourage equality in our trade, and we are glad that the administration is taking this on. Yes, it's created some anxiety out there. But at the end of the day, we believe a more equitable trade deal will pay big dividends for farmers and ranchers, and for our members at NDFB.
August 13, 2019: The weather has been wild in 2019. But are the USDA prevented plant numbers accurate?
Download the Wild weather and prevented plant mp3
Read the transcript
What an interesting year of weather. Starting out with extreme cold this winter, some areas receiving record snowfall, then on top of that excessive snowfall there was excessive rains on top of frozen ground which created a lot of flooding throughout South Dakota, Nebraska, Iowa, Missouri and many other states. And today, evidence of that flooding still exists.
About two weeks ago, as I drove to Lincoln, Nebraska, I went past fields that last year had 10-to-12-foot tall corn at the same time, 3-to-5-foot tall soybeans. And now those fields had 4, 6, 8, 10, 12 inches or more of water. In fact, I said to my daughter as we were driving, "Look over to the left. There's a family, in their tractor cab driving their tractor through the water on their driveway to get to the high end to where their vehicles were parked.
And right here in North Dakota, it's been an extremely interesting weather pattern, especially the last few weeks, with a fair amount of hail damage and wind damage, tornadoes where there haven't been tornadoes for quite a few years. Excess moisture in certain areas. And yet, we do have areas in the state that are experiencing difficulties from drought. Some of these pockets are as small as maybe a township. Other ones cover a county or counties.
The USDA came out with a report of 19 million – record number – of prevent plant acres. And yet, their acres that they say are out there that are planted for corn and soybeans and other crops, and their yields that they reported, don't paint the same picture as their 19 million acres of prevent plant.
This may be why I hear a lot lately from our farmer and rancher members; their mistrust in USDA. In fact, some of them have said to me, "Are they just another government agency which we can't turn our back on?"
That's a good question. It's a question maybe worth investigating. It's a question that, at NDFB, we should maybe ask our members. Give us your input. Let us know what your opinion is of the USDA. That information could be valuable to make a statement to this administration, and to our delegation, of how we feel improvements must be made within the agency which oversees what we do on our farms and ranches.
So, let us know. Give us your input. We would appreciate hearing from everyone what needs to change within this government agency that we must deal with on a daily basis.
July 30, 2019: The N.D. State Fair is in the books and the 4-H and FFA livestock shows that took place were a highlight of the fair for ag youth and NDFB.
Download and listen to the Supporting youth and livestock at the fair mp3
Read the transcript:
The 2019 North Dakota State Fair is in the books, coming to a close on July 27th. There were many livestock exhibits at the fair this year, and NDFB, once again, was proud to sponsor the showring in the Expo Barn. This is the ring where many of the 4-H and FFA shows take place, and also, many of the open class livestock shows happen, which, by the way, have become predominantly youth shows at the North Dakota State Fair.
Sponsoring that ring gives us exposure and lets folk know that, first and foremost, we support our youth involved in agricultural projects. And secondly, we support the livestock industry in the state of North Dakota. It is a great opportunity to expose those youth to the NDFB brand, and hopefully by sponsoring the North Dakota State Fair showring, we can make opportunities better for the youth that are involved in livestock projects in our state.
We also support the state science and engineering fair. What a great opportunity to help promote the sciences and the engineering, which, in agriculture, we have come to appreciate the technological advances that have come out of great science and great engineering when it comes to crops, computer systems to monitor and run our equipment, computer systems to manage daily functions of barns or greenhouses. Science and engineering is a very important part of agriculture, and exposing those youth that want to take interest in and participate in those good activities is also important to us at NDFB.
So, I guess you could say that NDFB supports youth projects which may, one day, make a change in agriculture for the positive, and every day that we can support youth in agriculture will make a positive change in those youths' lives.
It was a great State Fair. We were proud to sponsor the showring where hundreds of youth participated and excelled with their projects.
July 9, 2019: Don't be fooled by the those who try to get you to buy their meat products through fear-marketing. Your beef is safe whether or not the animal has had hormone therapy.
Download and listen to our Don't be fooled by hormone-free labels mp3
Read the transcript:
Well it's that time of year when you make the neighbor jealous, grilling those steaks or those hamburgers. It's also at this time of the year when we seem to have an increase in advertising vying for market share of what kind of burger you may put on your grill.
If you're putting a real beef patty on there, we have folks in the industry that say, "Ours has got no added hormones," making it sound like there is such a frightful thing out there using a hormone therapy to get better weight gain and utilize less feed to get an animal finished.
Folks, it doesn't matter what you put on your grill. That's your choice. But make decisions based off of facts.
The fact of the matter is a regular hamburger from a steer that has not had any hormone therapy for efficiencies has two nanograms per eight-ounce serving. A hamburger from a steer that HAS had hormone therapy for increased feed efficiencies and better gains, using less resources to make that eight ounces of beef, has three nanograms.
You may think that, "Oh! Wow! That's 50 percent more!" But then we have ingredients in these fake meat burgers out there. They may have soy. They may have peas. Which you might be surprised to know – now listen to this – that an eight-ounce portion of soy flour has 342 million nanograms of hormone. So, if you're concerned about your hormone intake, you might want to be concerned about your fake meat intake.
There is no concern whether you have the non-hormone therapy burger or the burger from a steer that had hormone therapy, because from two to three nanograms is virtually undetectable in your body. In fact, an adult woman produces 513 thousand nanograms a day. And an adult man produces 136 thousand nanograms of estrogen a day.
You can put on your grill what you want. But we at NDFB want you to make that decision based off of facts, not some slick advertisement, or fear to get you to buy their product, but educate yourself of what agriculture does to provide nutritious, safe and affordable food products for all of us in the great United States of America.
June 25, 2019: Why are we so afraid of carbon dioxide? All plant life needs it. It doesn't need to be sequestered. It needs to be used. And ag has the answer!
Download the Using carbon dioxide mp3
Read the transcript:
Carbon dioxide is a necessity for all living things that are green. All plant life requires carbon dioxide. And in turn, they give us our oxygen that sustains our life.
You know there's that word "sequestration" that's being thrown around out there, that the environmentalists have even got us in agriculture bought into using. Well, let's talk about the use of carbon dioxide, not the sequestration. Because carbon dioxide is a life-sustaining gas. We don't need it sequestered. We need it utilized. Just as we utilize oxygen as human beings, our crops that we grow utilize CO2.
In fact, a Michigan State University study finds that 36,000 pounds per acre of CO2 is used by an average crop of 180-bushel corn with a net of 8 tons – 16,000 pounds – being used. So a net use of 8 tons. That would be like an individual going to the grocery store, buying a five-pound bag of potatoes, you'd have to buy 3,200 bags of potatoes to equal 8 tons. So that gives you, kind of a look at how much is being captured by an acre of corn. And now you might ask how much is an acre of corn? Well, it's one football field. Or better yet, the houses you live in? It's roughly the square footage of 18 average-sized houses.
We look at oxygen as being our lifeblood, which it is for all mammals. But we need the green crops. The corns. The wheats. We need the soybean fields. We need everything that is agriculture.
So as I researched these numbers and found out just exactly how many positive things farmers and ranchers contribute to our environment, it makes me even more proud to be able to represent farmers and ranchers at NDFB. And it makes me proud of the heritage that our country was founded on and the heritage we work to preserve into the future for generations to come.
June 11, 2019: Grandstanding and foot-dragging are delaying ratification of the U.S.-Mexico-Canada Agreement.
Download the Ratifying the USMCA mp3
Read the transcript:
Grandstanding and foot-dragging. Two things that Congress actually is good at. But it's sad. It's sad that we are grandstanding over ridiculous things when there are so many important things ahead of us that we can take advantage of – that we need to take advantage of – that move forward farming and ranching and other industry in our nation.
The foot dragging happens on the USMCA – The United States-Mexico-Canada Agreement – the renegotiation of NAFTA, so to speak. President Trump and his administration worked diligently to get an improved agreement, not only for agriculture, but for technology and other industry. And yet, we have the foot dragging happening in Congress to ratify the agreement.
These same folks are the ones that are claiming that things are being ruined by the renegotiation with China, and "We're never gonna be whole again." Those are the same folks – leader Nancy Pelosi, more specifically – that are dragging their feet on ratifying a new agreement between three neighboring countries right here in North America.
It's not the president nor his administration dragging this out. It is the fact that it will not be brought to the floor for a vote. And people are pretty certain that if it would get brought to the floor, it would pass. But yet, the grandstanders do not want to have a win for the United States at the hand of President Trump.
That's a sad state of affairs. When we can make things better for this country, we let politics get in the middle.
So maybe it's time that we, at NDFB and all of our members, and everyone, actually, even if you're not a member, start calling Congress. I think we're pretty safe with our delegation from North Dakota. They support the USMCA and want it ratified. But maybe we need to flood the phones of leader Nancy Pelosi and tell her it's time to get away from the grandstanding, and pick them feet up and take a vote and ratify the new important agreement for all of America.
May 14, 2019: NDFB President Daryl Lies spent a few days, recently with the new U.S. Department of Agriculture's Natural Resources Conservation Service Chief, Matt Lohr.
Download the Working Relationships mp3
Read the transcript:
How important are relationships? To NDFB, relationships are extremely important, especially when we talk about political relationships.
Senator Kevin Cramer, when he spoke to our annual meeting last November stated his great appreciation for the relationship he has with NDFB. And we appreciate that relationship also.
But his statement was so important, because even beyond elected officials, having relationships with those who run the agencies, or are heads of departments, or even staffers in agencies become extremely important for our membership to be able to move forward on the policies which they implement each and every year.
On May 8 and 9, I had the opportunity to expand one of those relationships. NRCS Chief, Matt Lohr, was in North Dakota and South Dakota touring and meeting and discussing with farmers and ranchers the challenges having to do with water management, wetlands, productive soils and other issues important to all farmers and ranchers.
I have a great friendship and relationship for nearly 30 years with Chief Lohr. And being able to now groom that relationship as president of NDFB is something that I believe is a great opportunity for the members of NDFB.
You see, it doesn't matter where the relationship starts. We have staff members at NDFB that bring those relationships in for the organization. We have other members that have tremendous relationships that help foster those relationships for NDFB. And those relationships prove to be positive. Because there's no better way to get our message across of what our members and our organization stands for, than to be able to do it in a very calm and friendly discussion.
No, that does not mean that we ever give up on being firm in our beliefs and our principled policies, but it's always easier to have a friendly conversation than to constantly be at odds with those we need to work with.
So it was a great opportunity to spend two days with the new chief of the NRCS, who has only been on the job for five months, and be able to share our input and what our members believe they need to keep their farms profitable, which makes them sustainable into the future.
April 23, 2019: House Bill 1388 has been signed by Governor Burgum. It's a win for family farms and the future of agriculture in North Dakota.
Download the Governor signs HB 1388 mp3
Read the transcript:
It is signed! House Bill 1388 was signed by Governor Doug Burgum. House Bill 1388 was a simple bill to allow a slight adjustment in the corporate farming laws in North Dakota and is a positive change for all family farms in North Dakota.
House Bill 1388 simply allows up to second cousins to become a part of the family farm corporation. This may not seem like that big of a change, but it will have an immediate impact on several families who are looking for a way bring that next generation of farmers and ranchers into the family farming business.
Yes, it is important that we keep all tools in the toolbox operational and available for family farms in North Dakota to be prosperous and of course to allow the opportunity to be self-reliant. This is just another one of those things, a little bit of expansion of freedom, opportunity and self-reliance.
And one of the families who are immediately affected by this change is the Galegher family from Grand Forks County. They gave their testimony of the possibility of having to dissolve their current family farm as a result of second cousins wanting to become a part of that family farm.
This is a big win for all family farms in North Dakota, and is a big win for North Dakota agriculture to allow and assist future generations to make their living off the land, and to be great stewards of our God-given natural resources.
Here at NDFB, we'd like to thank the Legislature and Governor Burgum for doing the right thing and assisting additional family farms and their futures.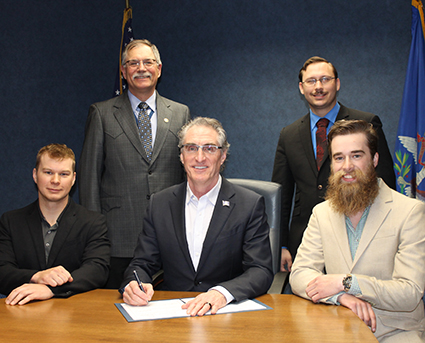 From left, David Hovet, Senator Randy Lemm, Hillsboro, Governor Doug Burgum, Representative Aaron McWilliams and Andrew Galegher.
April 9, 2019: House Bill 1388 passed the Senate in the N.D. Legislative Assembly, allowing for second cousins to farm in a corporate partnership.
Download the HB 1388, the Second Cousins bill mp3
Read the transcript:
Many people in North Dakota do not realize that the state of North Dakota tells you who in your family you can do business with and who you can't. But that's only if you are a farmer and rancher.
We have a restriction in North Dakota on who can have a farming corporation. And the state of North Dakota says that a farming corporation can only be family members. But they tell you who your family is and who your family isn't. Well that is now changing.
House Bill 1388 passed the Senate overwhelmingly last week. And what House Bill 1388 does, is it allows additional family members to be a part of that family farm corporation. Instead of having to be only first cousin relationships, now up to a second cousins are eligible to be part of that family farm and be a part of that farming corporation.
It's ridiculous to think that the banker, the butcher, the barber, the grocery store owner, an elevator, a seed salesman, or any other legal business can have a corporate financial structure and have anyone in their family involved. But in North Dakota, we were told that if you weren't at least first cousins, you are not family enough to be in that family farm corporation.
And if we truly want the future generations to come back to the family farms, then we must allow those family farms – which grandparents or great grandparents set up – to allow those grandsons and granddaughters to come back into that family farm no matter the relationship.
And we at NDFB thank the lawmakers for doing the right thing and making a small adjustment to allow more family membership to be a part and care for those God-given natural resources, to hopefully pass it to the next generation. Whether you're a first cousin or now a second cousin, that can be a reality.
March 26, 2019: Randy Lemm, longtime Farm Bureau member and staunch supporter of our grassroots policy development process, will be sworn in as District 20 Senator.
Download the Randy Lemm, Senator mp3
Read the transcript:
This week, District 20 will have a new senator sworn in to fill a vacancy left by Senator Osland because of medical reasons. First off, we ask that everyone keep Senator Osland in their prayers so that he has a full recovery from his medical issues.
But we are excited at NDFB, to have one of our very own, someone who has been very involved at all levels of Farm Bureau. Randy Lemm from Hillsboro, North Dakota, will be sworn in this week as the new District 20 Senator.
Randy has served as president in the county, he has served numerous terms on the county Farm Bureau board. He has served on statewide committees and he's been extremely engaged in the policy development process, of which we pride ourselves on at NDFB, that very grassroots policy development organization that we are.
So we know Randy will understand what is important to farmers and ranchers as he engages in both farming and ranching in the eastern part of North Dakota, and will make sure that we are doing everything we can in the state of North Dakota to keep our number one industry – agriculture – at the top of the scale, and make sure farmers and ranchers, and all others in North Dakota, have an opportunity at success.
So, congratulations to Randy Lemm of Hillsboro, North Dakota, one of our great Farm Bureau members from Traill County, in his new position as state Senator for District 20.
March 12, 2019: SB 2315 is a private property rights -- not an anti-hunter -- bill
Download the SB 2315 mp3
Read the transcript:
Private property rights. A major focus for those of us who are members of NDFB. Property rights are the backbone and the foundation of basic freedom in the United States. On Thursday, March 14, the House Ag Committee will hear testimony regarding Senate Bill 2315, the private property rights bill.
Now this has been labelled by some as an anti-hunter bill. But it is quite the opposite. It's a private property rights bill. It gives the ability for those landowners in North Dakota to more securely have and protect their private property and have true inherent private property rights.
It's quite a bit different than what 2315 was when it was first introduced. In fact, if I take my private property rights hat off and put on my hunter – my sportsman's – cap, which most of the landowners in the state of North Dakota are, and they want to see that tradition protected.
But if I take that cap and I put it on and look strictly from a sportsman's point of view, this bill actually helps the sportsmen plan their outings and their hunts for the fall seasons. Yes, what I said is correct. I believe this bill assists and makes things easier when planning your hunting trips because of the database that it will create.
We encourage our House members to pass Senate Bill 2315 just as the Senate did right before crossover. And we hope that landowners from all across the state will call in and encourage its passing. And we hope that the sportsmen of the state understand that this is about private property rights, not about ending hunting like some people say it will. Quite to the contrary, I believe this is a compromise that will also enhance the opportunities to plan better for hunting trips across the state of North Dakota.
February 26, 2019: NDFB Week is coming March 10-16.
Download the NDFB Week mp3
Read the transcript:
The second week of March marks NDFB Week. During this week we educate, communicate and involve people in understanding what agriculture is about and where their food comes from. And one of the ways we do that is engaging the youth and how we can get young, up and coming future leaders of our communities, states and nation, even though when they are three and four generations removed from the farm in most cases, to understand where their food comes from.
We have counties across the state that do events during NDFB Week to provide that opportunity. To do that outreach. To see who the faces are of our leaders throughout the counties in this great state of North Dakota that are advocating on behalf of farmers and ranchers and who are members of NDFB.
We have a coloring contest. This year's theme is to draw where the food on their plate comes from and what their interpretation is. It creates a critical thinking opportunity for fourth and fifth graders throughout the state.
And for this information you can go to ndfb.org/fbweek. The deadline to have the coloring contest pictures in, is March 6 and the winners will be announced during NDFB Week.
Yes, we have to start with the youth to help them build the connection of where their pork chop, that steak, that hamburger or that chicken nugget starts, and how it ends up to provide them with the food they eat each and every day.
So, help us celebrate. Whether it's farming in the east to ranching in the west, this is how NDFB helps create an atmosphere of education, communication and understanding of how food ends up on the tables of families.
February 12, 2019: The Green New Deal pretty much calls for the elimination of everything that we need to live, not to mention cows.
Download the Cows aren't killing the planet mp3
Read the transcript:
With every election there brings newly elected folks to office that put out some, well let's just say it, crazy ideas from time to time.
And now we have a Congresswoman suggesting that cows are a major contributor and a big problem when it comes to greenhouse gases.
The Green New Deal pretty much eliminates the ability to do anything. Wants to eliminate fossil fuels, wants to eliminate cows because of flatulence, which let's correct that right away, it's not the cow farts that creates the methane gas, it's the digesting that cows does and the belching that produces that methane gas. They don't even know what they're talking about when they begin to talk. But that's commonplace amongst the extreme environmental community. Getting rid of planes, getting rid of natural gas, oil, diesel, gasoline, coal, cows, everything that is meaningful to making our world go around.
A lot of times agriculture gets a bad rap. However, less than 10 percent – about 9 percent of the greenhouse gases produced – come from agriculture. There is more produced from houses and businesses, which is 11 percent. So one could argue that urbanization is creating more greenhouse gases than we are.
And then you have industry. Twenty-two percent of greenhouse gases comes from industry. That's the places where they take the raw goods and turn them into useable products, such as that cell phone that you are possibly listening to this podcast on. Transportation is the highest by far, but I'm not sure that there's too many people willing to go back to a horse and buggy, or hoofing it everywhere you wanna go, and essentially eliminating world travel, unless you're going to do it by a sailboat, because we won't have any oil or gas and diesel to run the boats.
So when we hear these things coming from elected officials, I'm not even going to call them "elected leaders" anymore. I don't consider someone a leader that wants to take us down a path of destruction for our country and our world.
And at NDFB, we believe that those of us in agriculture are doing a terrific job of producing more while using less, and we are actually contributing to the betterment of all of our natural resources and the air around us.
And our farmers and ranchers work hard every day because their future depends on having a great resource available for future generations.
January 29, 2019: Private property rights take center stage for NDFB at the 2019 Legislative Assembly.
Download the Private Property Rights bill mp3
Read the transcript:
NDFB: the member's organization for private property rights. At the very backbone of the founding of our organization, we believe that private property rights ensures our freedoms and opportunities. And last week, NDFB stood up in favor of private property rights asking for support from the Senate Agriculture Committee on Senate Bill 2315.
This is the bill that considers all land posted, which gives us the inherent private property right of knowing who, when and where people are accessing our private property, not just free-will roaming, which is allowed now under state law.
This is a private property rights bill. Some have tried to take it as a non-hunting bill. But as everyone knows, our members, farmers and ranchers, are some of the most active sportsman in the state of North Dakota. We enjoy our agricultural heritage along with our outdoor and hunting heritage. So, we don't want to jeopardize any of that fantastic heritage that we have here in North Dakota. Rather, we want to ensure that private property is protected – inherently protected – just as our Constitution of the United States guaranteed that our private property was ours to do with as we feel we need to for the safety of our family and living for our family.
And at NDFB, we took that stand, along with hundreds in attendance that want to protect private property rights in North Dakota.
The committee has yet to act on it, so there's time to contact the Senate Agriculture Committee and also your individual senator from your district in the state of North Dakota and ask them to please respectfully support Senate Bill 2315 because it's about private property rights, the very founding of our great nation. And we at NDFB will stand up every day for those property rights.
January 8, 2019: From the 2019 Legislative Assembly to the AFBF Annual Meeting, the new year brings a flurry of activity to NDFB and North Dakota.
Download the 2019 AFBF Annual Meeting mp3
Read the transcript:
Happy New Year from all of us at NDFB. As the new year kicks off, a lot of things are taking place. In North Dakota, the Legislative Session is off and running. Legislators are discussing new policy, talking about removing some policy and of course, looking at the ever-important budget to see what infrastructure needs can and will be met.
However, for us at NDFB, this marks another special time of the year. It's the final leg in our grassroots policy development process as we head to the American Farm Bureau Federation Annual Meeting and Convention. And this year is a special one – the 100th annual meeting of the American Farm Bureau Federation, being held down in New Orleans – the Big Easy – January 11th through the 15th.
We'll attend seminars, there'll be competitions, there'll be awards given out, there'll be a trade show, a lot of discussions, and meeting new friends and visiting with friends you only see at these kinds of events.
However, for those of us attending from NDFB, the main focus is the policy development. On the 15th we will have rigorous and vigorous debate of policies from all across the Farm Bureau network to set the path forward for American Farm Bureau Federation's advocacy on the behalf of the American farmer and rancher.
And we at NDFB will be taking stands on policy on behalf of the beliefs, the principles and the policy set forth by our membership right here in North Dakota, and hopefully we can influence how the policy is put forth at the American Farm Bureau Federation.
Being affiliated with the largest ag organization in the world with nearly 6 million members has many benefits. We look forward to carrying the message of the farmers and ranchers from North Dakota to the American Farm Bureau process and implementing good policy for the great people involved in farming and ranching right here in North Dakota and across our great nation.
NO Dialogue issued on December 25 due to the Christmas holiday.
December 11, 2018: EPA invites AFBF and state Farm Bureaus to signing of proposed Waters of the U.S rules in Washington, D.C.
Download the 2018 EPA WOTUS rule change mp3
Read the transcript:
The great policy process of the Farm Bureau network is in full display this week as I attend the American Farm Bureau Federation resolutions process; the initial steps of which state Farm Bureau presidents gather and have a rigorous and vigorous debate on policies that will be going forward to the American Farm Bureau Federation delegate session.
But a special opportunity arose this week. As we were making our travel plans to head to D.C., we got notice from AFBF President Zippy Duvall of an invitation to the EPA by Administrator Wheeler to attend the signing of the new proposed regulations and rules regarding Waters of the U.S. New rules for the Clean Water Act, which will replace the WOTUS that was put into place in 2015 by the Obama Administration.
This is a big step in turning back those very onerous regulations of the Obama Administration when it regards control of land by the federal government.
The biggest land grab in American history was WOTUS. The Farm Bureau network was very instrumental in fighting back against this onerous rule, this extreme government overreach, and I love what Mr. Wheeler, the interim administrator of the EPA had to say today. He said we want a rule that allows the landowner, the farmer and rancher, to step out onto his property and be able to look out across his property and determine whether it is a Waters of the U.S. nexus, or if it's a local water issue.
That is a big improvement, because in the previous rule, almost every puddle was under the EPA and federal jurisdiction. And not knowing for sure whether we were violating the WOTUS rule, by plowing and not having a permit, by seeding a crop and not having a permit. He stressed the importance to be able to understand the rule and know what is and what isn't a federal regulated navigable water.
It is something that we can be proud of in the Farm Bureau network for the work that all 50 state Farm Bureaus engaged in fighting back against extreme government overreach.
More information including a pre-publication version of the Federal Register notice, the supporting analyses and fact sheets are available at: https://www.epa.gov/wotus-rule
November 27, 2018: A big event is coming in January. American Farm Bureau Federation turns 100 years old!
Download the 2018 AFBF turns 100 mp3
Read the transcript:
Having just finished up another successful year and our annual meeting and convention in Bismarck a couple week ago, we now focus on attending the American Farm Bureau Federation annual meeting and convention in New Orleans in January.
This is a landmark year for our national affiliate at American Farm Bureau as they celebrate the century mark – 100 years of advocating on behalf of farmers and ranchers. And it's a great opportunity to be affiliated with the largest ag organization in the world, with nearly 6 million members across the United States and Puerto Rico.
There's advantages to this network, as we have the opportunity to have discussions with people that are experts in all the various fields of agriculture. No matter what you farm or ranch there is the opportunity to reach out and gain the knowledge to help advocate on behalf of farming and ranching all across this nation.
And at NDFB, we tip our hat to the AFBF for 100 years of advocating for agriculture in our great country, the United States of America.
November 13, 2018: NDFB just finished another successful annual meeting, where delegates shared their most pressing concerns and determined organizational policy.
Download the 2018 NDFB Annual Meeting recap mp3
Read the transcript:
Another great weekend was had this past weekend at the 76th Annual NDFB Convention. We had members from all across the state travel to Bismarck to make the decisions in that final leg of our policy development procedure, that grassroots policy development which is so important to our organization.
We celebrated some counties with growth. Nearly two dozen counties had growth in membership this year, giving our state a third year in a row of growth. This is tremendous in a time when we hear of a lot of organizations finding it harder and harder to gain members and gain volunteers. We consider this a success to be able to have three steady years of growth.
But back to the policy development. What really sets us apart from other organizations is that grassroots policy development, which starts at the county. It's an idea of individuals bringing things to the county, which they take to the district where it gets debated again, and the final rigorous and vigorous debate on the house of delegates floor at our annual meeting.
And once again, it's no surprise that our members – our delegates from each county from all across the state – told us that, through their policy development and through what they feel we should be focused on this coming year and that is private property rights.
Whether it's the land, your home, your livestock your equipment, they told us loud and clear that private property should be our focus throughout this next year. And that is just an enhancement to what we already do and will always do, is protect private property and advocate for those policies which will, in turn, give us those protections.
That makes us at NDFB, the most prominent private property organization in the great state of North Dakota.
October 23, 2018: NDFB and On Your Table are telling the good news of modern agriculture through The Success Files with Rob Lowe.
Download the NDFB and OYT ag's good news on television mp3
Read the transcript:
Food fears live in people's minds, and is a reality to them. However, the misinformation which has guided them to have that fear is of great concern to farmers and ranchers and us at NDFB.
We have the great opportunity to have members of the NDFB in our state share factual information with Rob Lowe from the Success Files, which will be airing a five-minute segment over the next year on the Public Broadcasting system and reach upwards of 60 million households.
I say that because it's extremely important that we in agriculture are the ones providing the information, because as farmers and ranchers we have the same concerns as the consumer. We want to know that our food is safe. We want to know that the way our food is grown is proper – and we know that, because it's the same food that we consume for our families.
So why wouldn't you want the information to come from those that grow it and give you the explanation of the reasons for the need the technology, the reasons for the applications of that technology and therefore the healthy food outcomes of using modern farming practices.
Along with this five-minute video, NDFB will also be airing a commercial which will be running over the next week and a half – until October 31st – on CNN, CNBC and MSNBC and the Fox networks. We have the opportunity to have this air approximately 50 times in the next nine or ten days, that's going to direct people to our site, which is ndfb.org.
If you are interested in seeing the five minute video or seeing the commercial, and if you want more information of why farmers and ranchers do the things on the farm which they do to produce food, ask and we'll get the answer, or the answer may exist On Your Table website, which we have created as an enhancement to our ndfb.org to put those food fears to rest.
October 9, 2018: NDFB President Daryl Lies explains NDFB's position on Country of Origin Labeling.
Download the NDFB on COOL mp3
Read the transcript:
Individual freedom and opportunity must not be sacrificed in a quest for guaranteed security. One of the very founding principle beliefs of NDFB.
For months now, there have been discussions going on about the trade, and the farm bill and everything connected to it. And one of the things that has come up most recently, again, is the discussion of Country of Origin Labeling.
At NDFB, we have a policy that falls in line with that philosophical belief I just read. Our policy states, and I quote, "We support labeling of U.S. beef through the channels of free enterprise and entrepreneurship rather than a government mandated Country of Origin Labeling, or COOL, program." End quote.
You see, the government was set up to do those things which we cannot do for ourselves. However, labeling of our meat products is something that we can – and that people do – for themselves every day.
If you feel it is important to source beef, or pork or other meat products grown right here in the United States, maybe even right here in North Dakota, you can do that. And if you think it's necessary to have a label for the beef you raise, the pork you raise or the other meat products you raise, you have the capability to do a private label, and label where that was grown. And THAT is self-reliance. And obtaining the opportunity guaranteed by our freedoms in this country.
What has been lost over the decades should be the question we ask ourselves. And how do we regain implementing and using our freedom, opportunity and self-reliance, and doing those things which we are perfectly capable to do as individuals, and not depending on the government to create an answer and a false security blanket for the issues we feel are important.
September 25, 2018: NDFB responds to the corporate farming judgment.
Download the Response to corporate farming judgment mp3
Read the transcript:
NDFB and our legal representation have been studying the decision of the judge regarding our case against the state of North Dakota and the corporate farming laws that restrict the ability for farmers and ranchers to utilize a corporate financial structure that is available to any other legal business in the state.
As we look through this, we are shocked that the Attorney General and others are claiming a full victory. We have prevailed in many if not a majority of the motions contained within the decision. Time and time again, the judge ruled that the motions brought forth by the Farmers Union, DRC and the Attorney General were not in good standing. And we prevailed on those.
And we prevailed in the situation of where we felt that the Dormant Commerce Clause was violated in how non-resident, out-of-state interests were treated, and the judge ruled in our favor, that yes, that did violate the Dormant Commerce Clause.
Now, we did not prevail on everything. And we are looking through and studying thoroughly, along with our legal advisors, of what those next steps will be in this fight to provide freedom and opportunity, and the ability of self-reliance for farmers and ranchers in North Dakota.