Policy & Advocacy - Legislative Action
NDFB enjoyed an extremely successful 2019 Legislative Assembly. The organization's public policy team compiled a legislative review highlighting all the issues that are important to our members.
Meet your 2019 Public Policy Team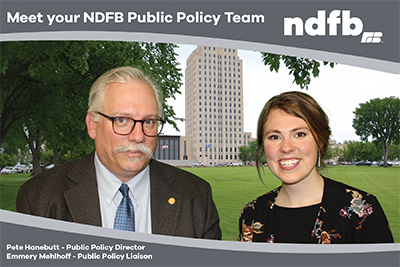 Q&A with the team:
Your NDFB Lobbyists, Pete Hanebutt and Emmery Mehlhoff, worked for you at the 2019 Legislature to make sure NDFB's policy positions were heard and understood.
Just prior to the session, they sat down to answer a little Q&A:
Pete Hanebutt, NDFB Director of Public Policy
How many years have you been involved in the legislative process?
This will be my 25th year as a professional advocate for Farm Bureau members. Granted, many of my years were spent lobbying, both state and national issues for Indiana, but many issues are similar. Certainly, national issues are the same across states. Rural issues are very similar throughout the Midwest: Farm Bureau stands for less taxes, less regulation and more personal freedoms for our members. While this is my third Legislative Session in North Dakota, my experiences of lobbying a variety of issues across multiple states, serves me well in my new home.
What role do you play as an NDFB lobbyist?
The role of the professional lobbyist is somewhat straightforward: We speak on behalf of the members and the principles of our organization. All the minutia around lobbying and public policy never changes the basic principle of defending our members' interests.
Why is it important for NDFB members to be involved with the policy process?
When a lobbyist speaks, the legislator must understand who we are speaking for: Member engagement is crucial to giving the lobbyist the credibility of constituents who the legislator knows back home. Our members are their constituents, and that's what makes our voice powerful.
Additional comments:
It's very rewarding to work for the farmers and ranchers who feed and clothe the world, and I would not want to do this job anywhere else. I'm extremely happy with my new home state.
Emmery Mehlhoff, Public Policy Liaison
What are you looking forward to this legislative year?
I am excited to talk with our representatives about issues important to agriculture and our member families. I am also excited to get connected with the NDFB members who visit during the session.
How many years have you been involved in the legislative process?
The 2019 Legislative Assembly will be the third session I have been involved with the ND legislature. In 2015 and 2017, I served as the clerk for the Senate Agriculture committee. I have also had the opportunity to intern with (newly elected Senator) Kevin Cramer and work with local government.
Why is it important for NDFB members to be involved with the policy process?
N.D. agriculture is the backbone of our economy. But with each generation, there is a further separation of the producer from the consumer. By taking time to attend committee hearings and talk with representatives, you have the opportunity to make that reconnection and talk about the issues most important to N.D. farmers.
Additional comments:
I am working for the NDFB because I love farming and I love agriculture. As my family grows, I want them to have the freedom to love agriculture and have a future filled with opportunity.