NDSU CollegiateFarm Bureau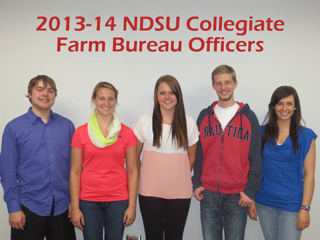 Congratulations to the 2013-14 officers. They are, from left to right: Nevada Turbiville, Vice President; Emily Wentzel, Secretary; Kimberly Klein, President; John Breker, Treasurer; and Kristi Schaffer, Recruitment.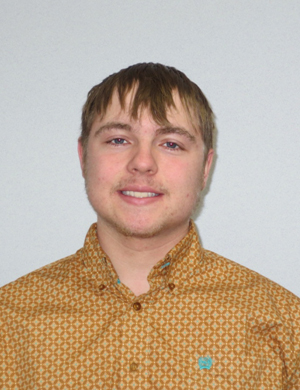 NDSU Collegiate Farm Bureau Discussion Meet winner named:
Nevada Turbiville won the NDSU Collegiate Farm Bureau Discussion Meet, held November 13 on the NDSU campus. Nevada is from Rhame and is a sophomore at North Dakota State University studying Crop and Weed Sciences. In addition to participating in NDSU Collegiate Farm Bureau, he is active in the Saddle and Sirloin club, Agronomy club and Post Secondary Ag Students club. In the summers he interns at the Southwest Ag Coop in the seed and chemical department.
Nevada representred NDSU CFB at the national YF&R Conference, held this past February, in Phoenix, Ariz.
About NDSU Collegiate Farm Bureau
North Dakota State University Collegiate Farm Bureau was authorized by the North Dakota Farm Bureau voting delegates to the annual meeting in November of 2002. The group has voting status in Farm Bureau's policy development and implementation process and is governed by a board of directors elected by its members.
CFB members elect eight officers on a yearly basis to oversee the organization's activities. The officers are responsible for conducting meetings, organizing events and directing the implementation of policy development activities of the CFB membership.
CFB has advisors who assist the group in accomplishing its goals. Serving in an advisory capacity is North Dakota Farm Bureau Director of Programs Joey Tigges.
Since its inception, North Dakota's CFB membership has grown significantly, and has become one of the largest chapters in the nation.
To get involved contact Joey Tigges at jtigges@ndfb.org.