By Kelli Bowen
My Hubby is my favorite man in the whole wide world and to show my appreciation for him, I saved his life. How did I save his life? Read on…
Hubby's birthday was closing in fast and because I'd hate it if my birthday was forgotten, I need to make Got-dang sure I didn't forget his. I did some online shopping ahead of time to get some birthday staples.
Then I had a gift in mind for him at Costco, because Costco, unfortunately my entire family decided to join me on my errand run the day before his birthday. So I had to employ the children to distract Hubby while I smuggled the gift into the cart, through the store, and then sent Hubby on "a secret mission" to get a Christmas gift for one of the girls. It's October. Hubby hates crowds, so I'm sure he just rolled with it to get us the heck out of there as quickly as possible.
We stopped at another store and picked up a French silk pie, one of Hubby's favorites.
When we got home, Miss E smuggled the gift downstairs. Miss A found gift bags and tissue paper. While Hubby was outside, we wrapped the gifts and found balloons (you always need balloons when there's a birthday in the house).
The next morning, Hubby's birthday, I picked up the living room as I waited for the oven to preheat. I mixed up and baked some blueberry muffins, another of Hubby's favorites. I washed the couple dishes from the night before along with my dishes from the morning and put them away. I took a little extra time trying to have the house in order before I left for work.
I pulled the muffins out of the oven, placed them on the cooling rack, and then went to kiss him goodbye before heading off to work.
From the bed he said, "What were you doing; kinda noisy weren't you?" And because I didn't smother him with a pillow, I saved Hubby's life. He's lucky it was his birthday!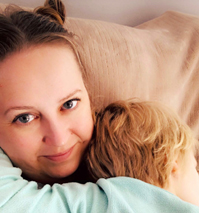 Kelli makes her home in Cass County with her husband, two daughters (11 and 8) and two dogs. She works for a regional seed company by day and tries to be an alright mom, wife, friend and writer by night.
Other popular posts from Kelli:
---