Policy & Advocacy - A Voice for you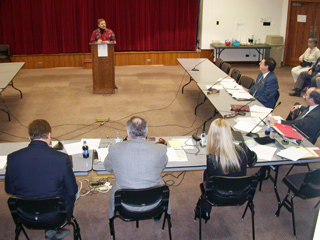 Member-driven - NDFB is a grassroots organization. Our position on issues begins with our county Farm Bureaus, where ideas become "resolutions." If adopted by the delegates to the NDFB annual meeting, these resolutions become the policy the organization advocates to the state legislature or to Congress.
The policy development process is the backbone tradition that makes Farm Bureau a progressive, visionary organization, shaping agriculture's -- and North Dakota's -- future through advocacy.
Action focused - When important issues that require messages to our Congressional delegation or state legislators are needed, we'll email you an Action Alert. The alert will include talking points and will automatically send your message to the correct person. Participate and sign up here.
Working to make it right - Conservation, oil development, water and taxes are just some of the major issues NDFB works on. More in-depth explanations of some of those topics are linked below:
NDFB's support of the Outdoor Heritage Fund
NDFB's opposition to the Industrial Commission's Areas of Interest
NDFB's opposition to the Northern Plains Heritage Area
NDFB's position on a property tax initiative.
For more information on NDFB policies and issue positions, please contact Pete Hanebutt, NDFB Public Policy Director.