NDSU Collegiate Farm Bureau
Check out the NDSU CFB page on Facebook.
About NDSU Collegiate Farm Bureau
North Dakota State University Collegiate Farm Bureau was authorized by the NDFB voting delegates to the annual meeting in November of 2002. The group has voting status in NDFB's policy development and implementation process and is governed by a board of directors elected by its members.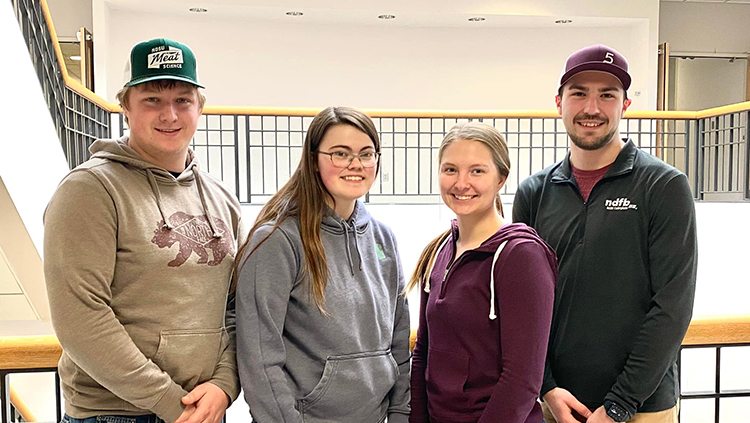 2022-23 officer team left to right: Tyler Goplen (special events), Kate Wrolson (treasurer), Jade Koski (President), and Race Jacobson (secretary). Not pictured: Delaney Scanson (VP) and April Rademacher (special events).
CFB members elect officers on a yearly basis to oversee the organization's activities. The officers are responsible for conducting meetings, organizing events and directing the implementation of policy development activities of the CFB membership.
CFB has advisors who assist the group in accomplishing its goals. Serving in an advisory capacity is NDFB Southeast Field Representative Alisha Nord-Donnelly.
To get involved contact Alisha Nord-Donnelly at alishan@ndfb.org.