News
Created: 8/04/15 (Tue) | Topic: Education
A farm must-have...
Pictured above: Attach a sprayer to your utility vehicle...With a sprayer in the back of your off-road vehicle, you can spray smaller, hard-to-reach areas and can better maneuver around corners. Polaris offers a 60-gallon boomless utility sprayer kits that easily mounts into the rear cargo box.
Utility vehicles (UTVs) and all-terrain vehicles (ATVs), like the Polaris RANGER® and Sportsman®, are becoming critical tools for on-farm jobs. If you aren't using an ATV or UTV, consider the many ways these vehicles can help you complete farm work more quickly and efficiently.
"Off-road vehicles are becoming a must-have on farms and ranches due to their ability to traverse various types of terrain, hard work ethic, ease of maintenance and cost efficiency," said Chris Vogtman, RANGER Marketing Manager at Polaris Industries.
UTVs and ATVs are often used to help speed up crop plotting and scouting, access difficult to reach fields, set up GPS points, pick up rocks, move irrigation legs, deliver feed, check on animals and more.
Choosing off-road vehicles can also save wear and tear on other farm vehicles. Bouncing a larger vehicle across a rough pasture, or crawling it over rocks could blow out tires or damage other components. UTVs and ATVs have the maneuverability to get you into tight places that you can't go with pickups or tractors.
Polaris Industries agricultural usage research, conducted in 2014, found that 49.5 percent of respondents use utility vehicles because they get to places other vehicles can't, with another 45.5 percent saying they're cheaper to operate than trucks or tractors.1
Polaris has distinguished itself with a number of industry-leading innovations that make its utility and off-road vehicles attractive for the ag market. For example, Polaris innovations include:
• PVT variable transmission, which eliminates shifting – an industry first.
• True AWD -- an on-demand all-wheel drive system that automatically engages 4WD when you need it.
• First independent rear suspension for smoother riding.
• Electronic fuel injection for better cold-weather starting and performance.
• The broadest line-up of off-road vehicles including gas, diesel and electric models with value and premium offerings.
Polaris utility vehicles are industry-leading, designed to deliver power, reliability and ease of maintenance. They're engineered to handle a multitude of tasks including: towing, hauling, transportation, spraying, plowing snow, pushing feed and more.
Check out more great, creative uses for off-road vehicles from "Ag Uses for Off-Road Vehicles" by Jessie Scott on Agriculture.com:
GPS Field Set Up
Attach a GPS to the top of your machine to create field boundaries and mark A/B lines. By using an off-road vehicle instead of a tractor, you can cut back on costs, reduce compaction and save planting time by marking the guidance lines early.
Install Your Own Tiling
On larger farming operations, save on costs by installing your own tiling with the help of a RANGER CREW. With a model like the one pictured here, you can load multiple workers and equipment to get to the field you need to tile.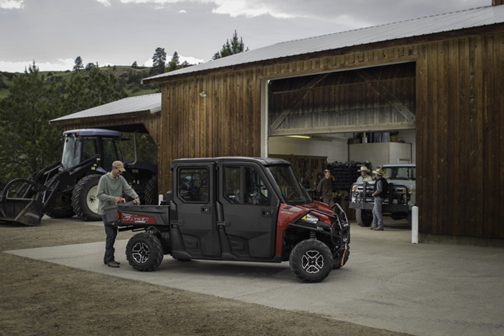 Mowing the Lawn
This Polaris Brutus HD PTO features a finishing motor, with a wide side discharge deflector to safely and evenly disperse clippings, durable anti-scalp wheels, and blade rotation indicators. The Brutus HD PTO is compatible with PTO and hydraulically controlled front attachments.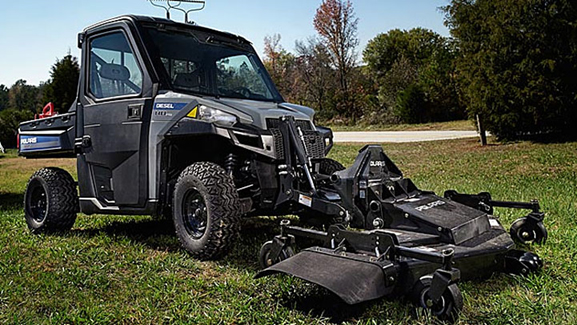 Tow Like a Champ
Make towing simple with a machine like this Polaris M1400. While it is fun-to-drive, it is also a hard-working machine. The Polaris M1400 can tow up to 1,500 pounds.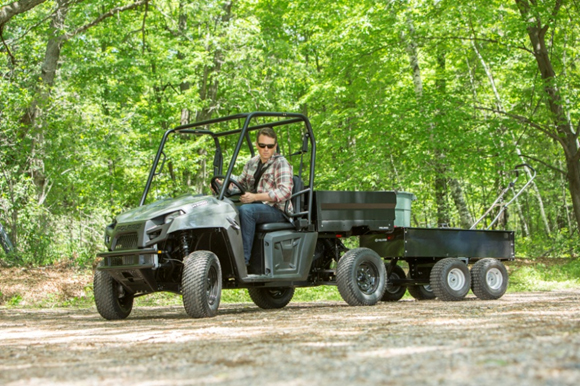 And remember, eligible NDFB members get $300 per unit off all Polaris® utility, sport and GEM® electric vehicles. A $200 incentive is available for Polaris ACE and Sportsman® all-terrain vehicles. These membership incentives are NOT valid for youth vehicles and cannot be combined with any other Polaris coupon offer. Current sales event pricing and finance offers do apply.
###
1. Polaris Agricultural Usage Research. Conducted: Summer 2014.
---
Do you have a news story to share? Send it to us and we might post it on our website!